INNOVATIVE SOLUTIONS FOR INDUSTRY
LABELLING HEAD - APPLICATOR V2
LABELLING HEAD - APPLICATOR
V2
The V2 universal applicator is PLC-controlled and enables precise, replicable operation free from external disruptions. The machine is equipped with a large, easy-to-read TFT touchscreen display.
Powerful stepper motors allow to achieve high speed of label feeding while maintaining accuracy, which results in both high efficiency and good quality of labelling. The machine works with a label roll of 450 mm diameter; thanks to its modern design, it is characterised by compact dimensions. Label rewind module facilitates fast labelling at speeds of over 100 m/min.
This design allows the applicator to be mounted in places inaccessible to models produced by our competition. The applicator can be equipped with a printer for additional information such as best before date, batch number, etc.
labelling at speeds of over 100 m/min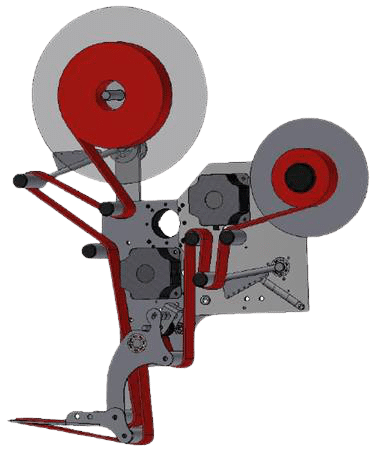 Maximum label ejection speed
Servo motor and stepper motor
40-76/450 mm (optionally up to 600 mm)
HMI (Human-Machine Interface)
optical or inductive (ultrasonic and Herma options)