SEMI-AUTOMATIC LABELLERS FOR FLAT PACKAGING
SEMI-AUTOMATIC LABELLERS FOR ROUND CONTAINERS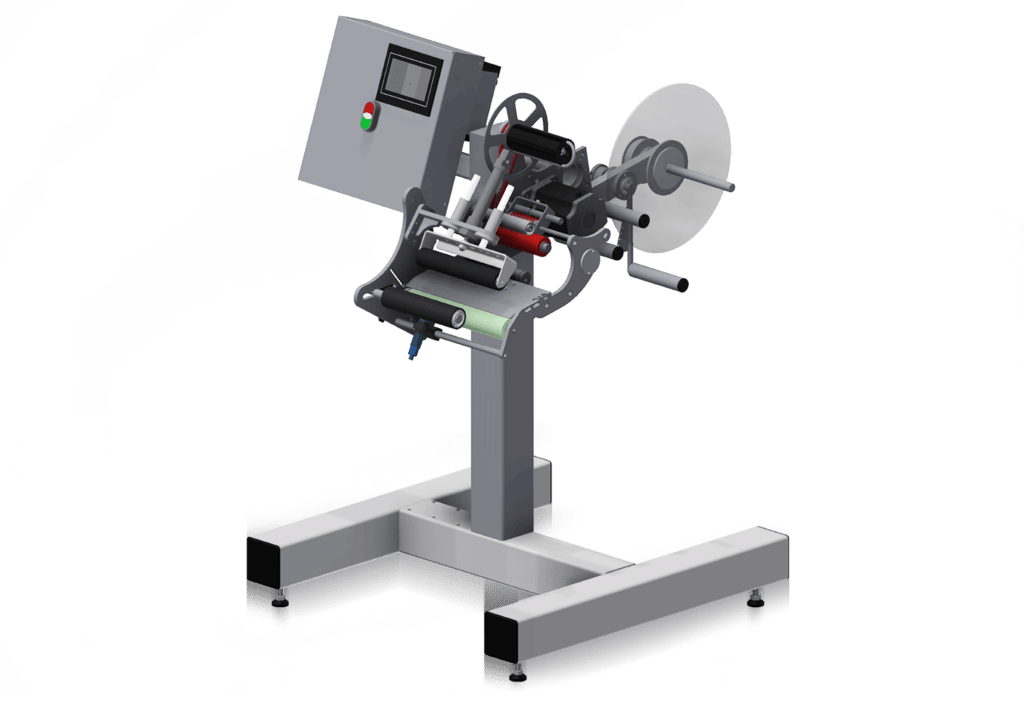 SEMI-AUTOMATIC LABELLERS – FOR TUBES
Labelling is an integral part of the production process of food or cosmetics products. The faster and more streamlined marking of the goods, the greater the efficiency of the entire cycle. That is why we offer you our semi-automatic labellers – deploy them in your company in order to meet market requirements and improve work efficiency in production.
FEATURES OF SEMI-AUTOMATIC LABELLERS
EVERYTHING YOU NEED TO KNOW ABOUT MODERN SEMI-AUTOMATIC LABELLERS
The semi-automatic labellers are equipped with a touch screen ensuring user-friendly operation, an optical or inductive (ultrasonic or Herma) label sensor and a product sensor.
In the basic version, the machines are used for placing labels on packaging of one type: flat, round or tubes
Thanks to the appropriate application heads, the semi-automatic labeller can be universally used for labelling boxes of different shapes
Each machine places two labels at the same time: on the front and on the back of the packaging or container, improving the efficiency of the production process
The semi-automatic labeller positions labels in relation to the tag placed on the product and in relation to the Fip-top cap, which is the main element of the bottle's hinged closure.
All semi-automatic labellers offered by our company can be equipped with special application heads to increase their functionality.
Please note that semi-automatic labellers are an excellent choice for short product batches.
Operation of the machine is limited to the proper setting of parameters and smooth placing and removal of products.
AN EFFICIENT SEMI-AUTOMATIC LABELLER IS AN INDISPENSABLE PIECE OF EQUIPMENT IN THE PRODUCTION PROCESS, STREAMLINING WORK AND ELIMINATING THE RISK OF ERRORS. WE ENCOURAGE YOU TO GET ACQUAINTED WITH OUR OFFER OF SEMI-AUTOMATIC LABELLERS DESIGNED FOR PLACING LABELS ON FLAT PACKAGING AND ROUND CONTAINERS AS WELL AS TUBES. OUR TEAM OF SPECIALISTS WILL HELP YOU CHOOSE THE RIGHT EQUIPMENT TO ACCOMMODATE THE NEEDS OF YOUR PRODUCTION DEPARTMENT.