INNOVATIVE SOLUTIONS FOR INDUSTRY
SEMI-AUTOMATIC CAPPING MACHINES
SEMI-AUTOMATIC CAPPING MACHINES
The capper is designed for semi-automatic closing of plastic, glass and metal containers. It is a single station machine with one capping head.
The capper is available in three versions: the first is a four roller capping system, the second is a version with a single cap size variant adapted to the given format of the cap, the third version is an aluminium cap capper, where special discs form a threaded finish on the aluminium cap. The capping machine is equipped with a working station and height adjustable capping head. The capper is designed for plastic caps, pumps, triggers, dropper bottles and aluminium caps that have been previously placed on containers. The cap is placed on manually, then the operator inserts the container into the capping space, i.e. a fixed cap format, or a cylinder assembly that grips the package for capping (by the capping head) with the appropriate force. The capper is operated by a foot pedal or push buttons and is equipped with DC motors. The machine has infinitely variable speed and precise torque control. All construction elements made of type 304 acid-resistant stainless steel. The work area is protected by guards.
allows for format change
in approximately 5 minutes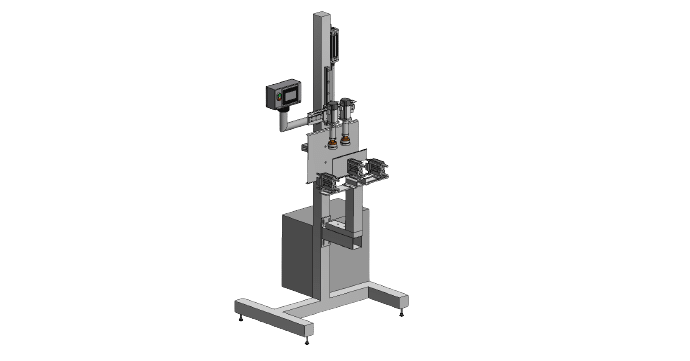 The machine control provides a library of capping modes for individual types of containers. After selecting the appropriate mode for the given container, the capping time and force are automatically set.
the rotating speed and tightening torque of the head
the grip time of the positioning cylinders during capping
In order to switch the device to a new packaging format, you need to select a working mode that is suitable for a given packaging type on the operating panel and manually change the format of the capping head into one that is dedicated to the given cap.
Format change of the machine takes approximately 5 minutes.
Technical specifications:
– Power supply: 230 V / 50 Hz Power: 1.2 kW
– no lubrication required
Examples of types of bottles, containers and closures supported by the capper: pumps, triggers, flip-tops, etc.
PHOTO AND VIDEO GALLERY OF THE
MACHINE
WHAT IS A CAPPING
MACHINE?
In industrial enterprises, automation of production enables manufacturers to meet numerous international standards and reduce costs while increasing productivity. More and more entities appreciate the benefits of streamlining their work and are searching for the best solutions. We offer you automation of the production line – equip your plant with modern capping machines!
TYPES OF CONTAINERS
SUPPORTED