INNOVATIVE SOLUTIONS FOR INDUSTRY
PRODUCTION LINES
AUTOMATION OF PRODUCTION
INNOVATIVE KERT PRODUCTION
LINES
The KERT offer includes whole production lines, from depalletising of containers through filling and dosing, capping or closing, labelling and collective packaging up to palletising of finished products.
We provide comprehensive customer service.
We assist in the selection of appropriate solutions within the scope of technological processes and adapt production lines so that they achieve the expected efficiency. We also support our customers during the operation of the machines, provide maintenance services and supply the necessary parts and consumables.
production lines
for depalletisation of
containers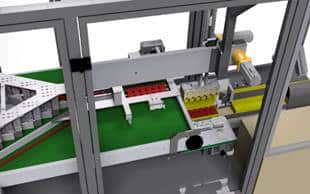 A multi-purpose machine for packing products of different variants (here paint colours) into boxes in a selected order. Products are transferred from the elevator to the buffer where they are cyclically released and the sets are placed in the right order. The product sets are moved to the sockets where they are positioned and aligned. The conveyor transfers sets of containers into boxes, then the boxes are closed and moved towards the labelling head which prints labels and applies them to the cartons.
MAIN BENEFITS:
– High productivity and flexibility allows to reduce production costs by eliminating the factor of human error.
– Various options of setting the colours order in the box and adjusting it to the size of the carton.
– Integrated module for folding cartons and applying personalised labels.
A production socket designed for automatic transfer of product sets from the injection mould cavities to the collective packaging. In the cycle the machine takes the components of the cosmetic containers and arranges them in the box according to a specific order.
A special box drawer was used in the design to prevent entry into the robot's work zone by using polycarbonate covers and a locking device.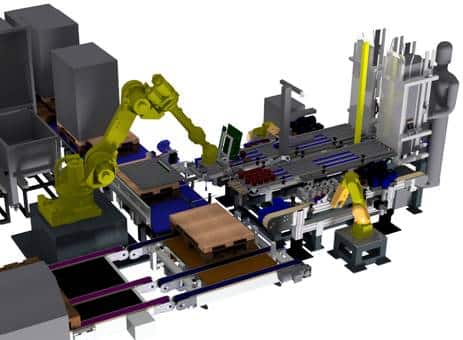 The machine operates in two stages based on three six-axis robots. In the first stage, the individual products are positioned by means of automatically controlled spacers, then gripped by the robot and bundled. In the next stage, the main robot loads the sheets with prepared bundles of products into the collective pallet, creating successive layers. The filled pallet is transported to the receiving platform.
BENEFITS
– Innovative separation system for easy and quick retool to pack other products.
– Universal conveyor for pallets of different sizes with a modern module for changing the direction of pallet transport.
– High efficiency thanks to the use of two tracks with product bundling modules.
A three-axis robot designed by us transfers the stacked product layers from the pallet to the buffer conveyor. Layer separation sheets and empty pallets are transported to a designated location using dedicated modules.
Perfect for automation of production lines.
BENEFITS
– Fully automatised and safe machine for fast unloading of pallets.
– The use of a buffer facilitates the introduction of products to the next stage of production.